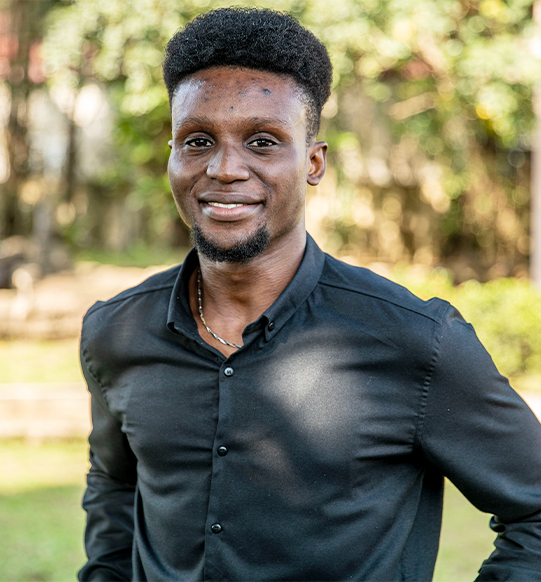 <! ––[icon_bar icon="icon-facebook" link="#" target="" size="small" social="facebook"][icon_bar icon="icon-instagram" link="http://instagram.com/" target="" size="small" social="instagram"][icon_bar icon="icon-twitter" link="https://twitter.com/" target="" size="small" social="twitter"] [icon_bar icon="icon-linkedin" link="https://linkedin.com" target="" size="small" social="linkedin"]-->
"Architects can't force people to connect, they can only plan the crossing points, remove barriers, and make the meeting places useful and attractive."
Ernest Selasi Fosu
B. Arch
Junior Architect
As an optimistic go-getter, Ernest takes it upon himself to get abreast with the current trends and philosophies in arts and architecture. This gives him the opportunity to get involved in major team activities and brings top notch productivity to the table.
With Ernest's artistic background, he is passionate about how architecture appeals to the five (5) senses of the users to create an experience to remember. He has an inside out approach that looks at the design holistically and answers questions of long-term functionality and aesthetics. He is a positive, vibrant individual who enjoys working hard and has a passion for discovering novel approaches and pushing limits. He is always deeply involved in his work. He has a strong capacity to analyse situations and define priorities to meet deadlines as well as achieve objectives. Young architects, in his opinion, have a responsibility to explore and examine new materials and architectural trends in order to build better construction techniques that cater for future demands. He thinks that by studying the technological concepts of earlier planners and architects who had previously remade themselves, we might find solutions to the issues of the present. He believes that as architecture is both an art and a science, it may be changed into a sustainable answer for a better tomorrow.
In 2021, he participated in the KNAUF BuildIt Challenge competition coming in 2nd. He served as the SRC Academic and Editorial Committee PRO Central University (2020/2021). He also participated in the maiden EDGE Architectural competition in 2019. Ernest has been involved in leadership at different levels serving as the Senior Boys' Prefect and SRC President of Labone Senior High School, and other roles in and out of school equipping him with strong leadership skills.
His hobbies include both artistic and performing arts, music, puzzles, tennis, travel, and reading.
CONTACT:
+233 (0) 559643051
[email protected]